Due to the upcoming Formula 1 race in and around the Las Vegas Strip, the following routes will experience stop closures and delays:
Koval Ln. Stop Closures & Detours – Effective Wednesday, Oct. 4, through Monday, Nov. 13, 2023

Route 119 – Simmons/Koval is detouring off Koval Ln. between Sands Ave. and Harmon Ave. and extended to Tropicana Ave., as needed. See below.

Sands Ave. Track Barrier Installation Detours – Effective Saturday, Oct. 14, through Monday, Nov. 13, 2023

Route 119 – Simmons/Koval and Route 203 – Spring Mountain/Desert Inn/Lamb will detour off Sands Ave. See below.

Flamingo Rd. & Koval Ln. Intersection Detours – Effective Saturday, Oct. 14, through Monday, Nov. 13, 2023

Route 202 – Flamingo and the Centennial Express (CX) will detour off Flamingo Rd. See below.

Deuce on the Strip bus stop closures – Effective, Sunday, Nov. 5, through Monday, Nov. 13, 2023

Stop 1403 (Mirage North) and stop 1376 (Mirage South) will be closed.

 Race Week Detours – Effective Tuesday, Nov. 14 until further notice – Recommended route alternatives provided in the links below.
Harry Reid International Airport bus stop relocation from Terminal 1 to Terminal 3 – Effective Tuesday, Nov. 14, to Monday, Nov. 20, 2023

Route 108 (Paradise)
Route 109 (Maryland Parkway)

Downloadable Map: Routes 119 (SB), 202 (WB), 203 (EB), & CX Bus Stop Closures and Temporary Bus Stops
Downloadable Map: Deuce on the Strip Bus Stop Closures
Riders should expect major delays and are encouraged to plan for lengthy travel times.
For riders using RTC transit routes to connect to the Las Vegas Monorail, visit lvmonorail.com for schedules and ticket prices.
Visit https://www.f1lasvegasgp.com/local-traffic for closure maps and to sign up for F1 alerts.
Plan ahead!
Subscribe to real-time text and email alerts here
Take an earlier trip if needed
Get the most accurate information on bus arrival times:

Use the rideRTC mobile app
Text RideRTC and your bus stop number to 41411
Call 702-228-RIDE (7433)
Formula 1 Las Vegas Grand Prix Traffic Updates
The global racing spectacle comes to Las Vegas November 16 – 18, 2023! Fast cars, huge crowds, and guests from around the world mean infrastructure improvements will impact local traffic through December 2023.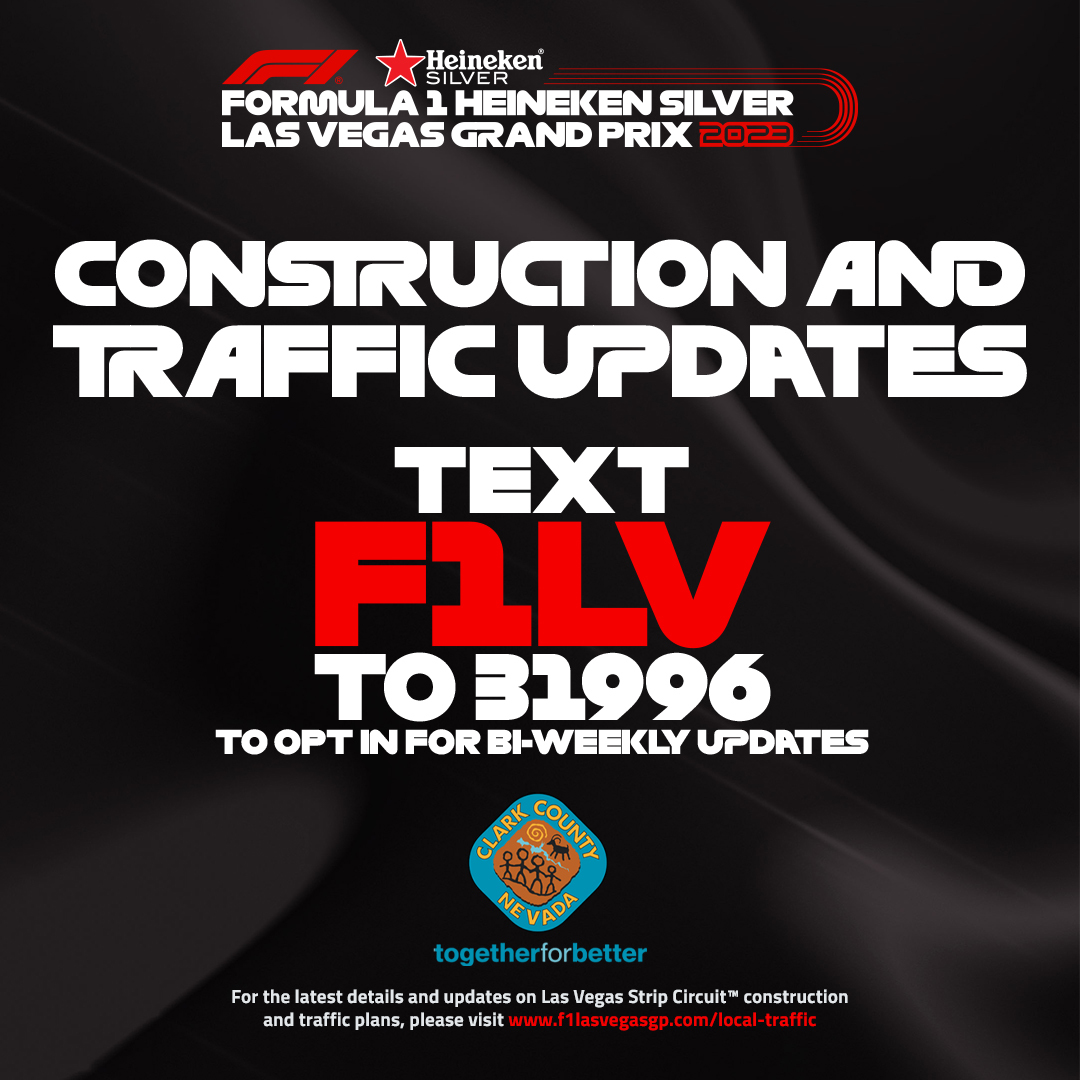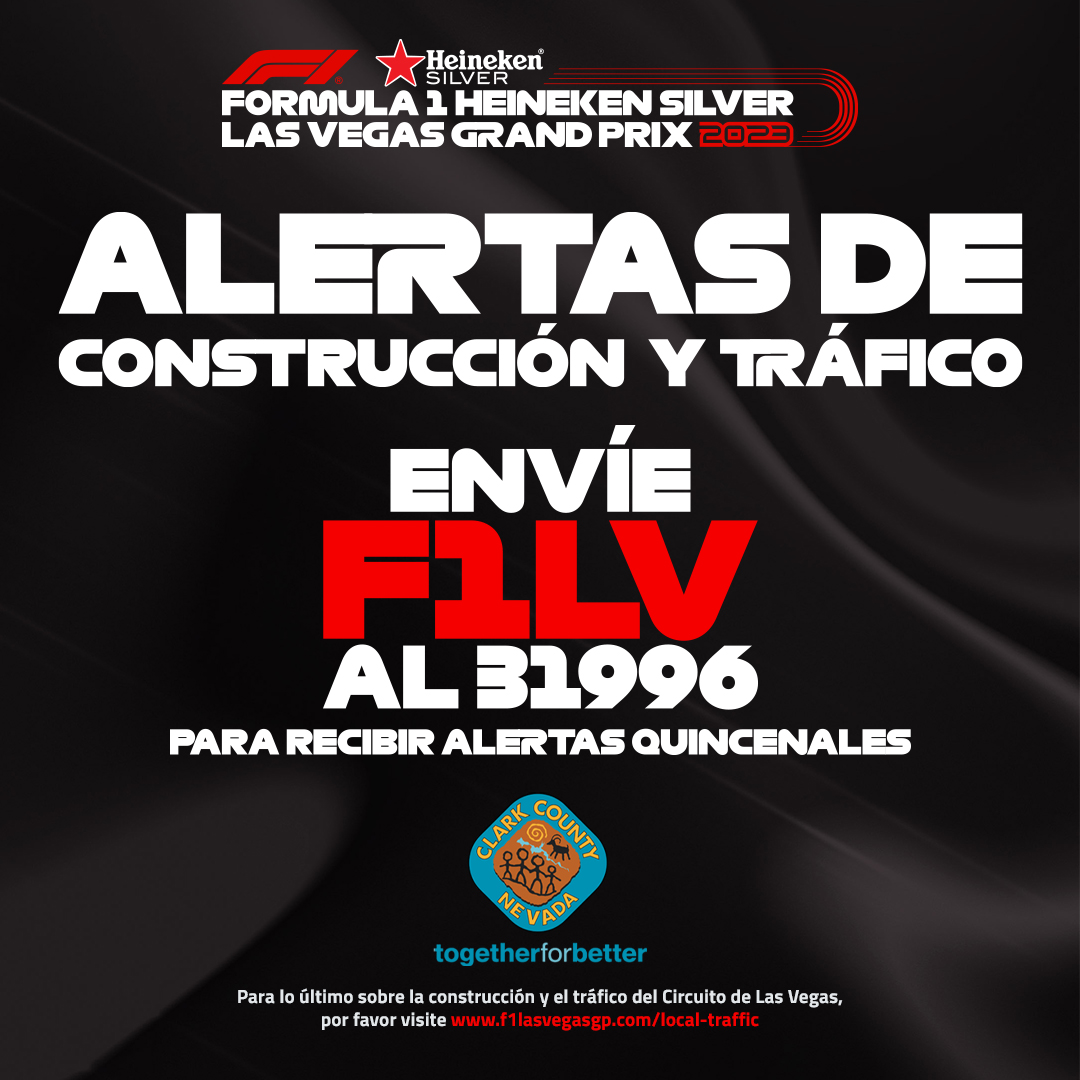 Text F1LV to 31996 to opt in for bi-weekly updates.
Formula 1 maintains a web page illustrating a timeline of current and upcoming construction updates impacting traffic in the Las Vegas community.
Clark County maintains an interactive map of projects impacting Resort Corridor employees and guests.
New to F1? Additional information is available at the FAQ.
Share This Project